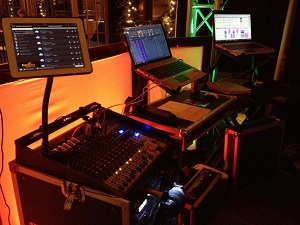 Whether you need a DJ for your corporate holiday party, summer outing, or even a company meeting in or around Tulsa, Music Merchants can help you with your event media needs.
Not only can we do your corporate party, but keep us in mind for other corporate events such as:

Grand Openings
Press Conferences
(can provide media audio feeds)
Sound Equipment
Lighting for ambiance, effects, monograms or bands
Equipment we bring can save you rental $$.
P.A. System with Sennheiser, Audio Technica, & AKG handheld wireless diversity microphones
Digital and Analog Mixers
Lapel and over-ear diversity microphones
7.5 x 10ft Front or Rear video projection screen
PowerPoint video presentations
2000 and 3000+ ANSI Lumen projectors for video or Powerpoint presentations
DVD or Computer for video or electronic media playback
And for your corporate party.
Numerous top 40 hits from the 50's to present
Music videos are a HUGE hit to add to your party
Online Requests (can be disabled)
Karaoke of course always available for a gut-busting good time